HARDWOOD FLOOR VENTS TO MATCH YOUR UNFINISHED OR PREFINISHED HARDWOOD FLOORING.
ALL WOOD VENTS ARE AVAILABLE IN UNFINISHED OR PREFINISHED STYLES, IN SMOOTH OR TEXTURED STYLES TO MATCH.
Standard sizes are widths of 2 ¼", 4", 6", 8" and 10" with standard lengths from 8" to 32" in 2" increments. Custom sizes are available upon request.
Caution: Wood vents wider than 6" are not made to be walked upon without additional weight bearing support within the air duct opening. Cold air returns or vents made in the cubed style are not designed to be used on the floor due to structural support issues. Wood vents are also not made to walk on with narrow heels.
Self rimming style vents:
Self rim drawingSheoga's Woodents Self rimming style vents are ideal for situations where hardwood flooring is already installed and the desire is to replace the metal styles commonly seen. The vent will be 3/4" thick with a 1 3/8" overlay that allows the vent to rest on the existing floor. To order, measure the existing air duct opening.
Flush with Rabbeted Frame vents:

Flush with Rabbeted frame vents are designed to install with ¾" thick flooring. The frame contains a groove on its perimeter, allowing the flooring's tongue to interlock and hold the vent in place.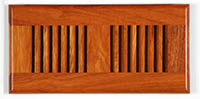 The vent rests on the frame itself and can be easily removed for cleaning purposes. To order, Measure the air duct opening.
Cold Air Returns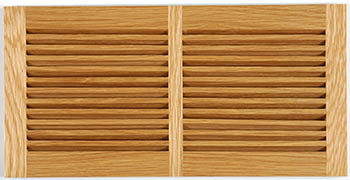 Cold Air returns (louvers are all angled in one direction) are available in Flush or Self rimming styles.To install on ceilings or walls, use screws, hook and eye catches or cabinet door catches. Most cold air returns are made in flush style. To order flush returns, add 2" to width and 2" to the length of the air duct opening for back support.
We also offer Cubed style cold air returns, which are designed to be used exclusively on the walls or ceiling (see caution above).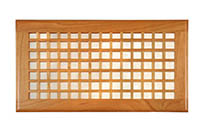 3-Dimensional Vents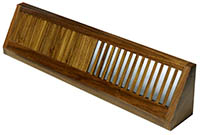 These vents are designed to be installed between baseboards. They rest on the floor and set out from the wall with a 2 ¾" base and 4" height. To order, add 2" to length of the air duct opening.
Dampers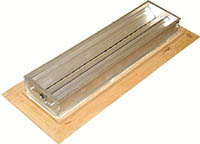 Metal dampers can be attached upon request on standard sizes of 4" – 6" wide vents, with lengths up to 14".
Finishing Vents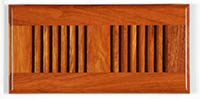 If you prefer to finish your own vents, apply 3 coats or more on all sides/edges to protect against excessive dryness. When applying color stain, brush or wipe on.